Chinese Food on Christmas and During the Holiday Season
It's not a myth! People really do love going to Chinese restaurants on Christmas. According to Grubhub data from 2015, Chinese food was ordered over 150% more frequently on Christmas Day of that year as compared to an average Friday (note that Christmas fell on a Friday in 2015).
Asian food is popular across the board with Christmas diners, as Grubhub cited Szechuan/Sichuan cuisine as the #1 Christmas culinary choice, followed by general "Chinese," then Cantonese, then Japanese and Indian rounding out the Top 5.
Why Z & Y Restaurant is the #1 Choice for Xmas Dining in San Francisco
Spending your holiday season in San Francisco this year? If so, stop by Z & Y Restaurant for a meal. We are open 365 days a year (including Christmas, Christmas Eve, NYE, and New Year's Day!) and we have been twice named as one of Michael Bauer's Top 100 restaurants in the Bay Area. Below are some suggested favorites for holiday dining, including a few seasonal options (crab) that are available (and delicious) during the holidays:
GARLIC CRAB
Get ready to delight your taste buds... and make a bit of a mess with this delicious, fresh, and local delicacy. Crab season typically begins in mid-November and 80% of San Francisco's Dungeness Crab is brought in by the end of December. Therefore, Christmas is just about the perfect time for this dish. Put on your bib and get to work!
Get ready for a delightful array of spices and flavors, along with just the right amount of heat to accentuate the experience.
---
BASIL CLAM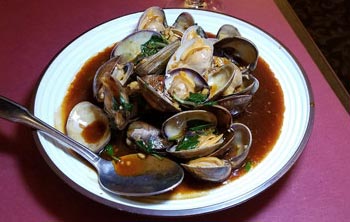 Basil and clams come together in a match made in heaven in this simple, yet succulent dish. Enjoy this exceptionally popular menu item with a glass of one of our Napa or Sonoma Chardonnays for a perfect pairing.
---
PEA SPROUTS WITH HAM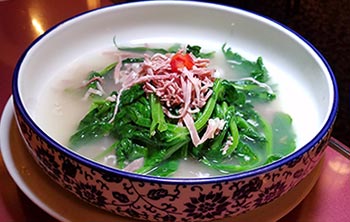 A surprisingly memorable dish, pea sprouts (or 'pea shoots' to some) are best during winter when the weather is dry. In this dish the sprouts taste sweet but remain crunchy while absorbing the savory flavors of the cured ham.
---
DUMPLINGS IN CHILI OIL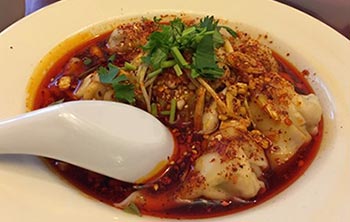 These deliciously spicy dumplings come in a bowl of chili oil with peanut toppings. This highly popular dish is a favorite with both new and old customers year-round. Dumplings also are also part of the holiday tradition in Chinese cuisine dating back centuries.
---
SWEET STICKY RICE BALL SOUP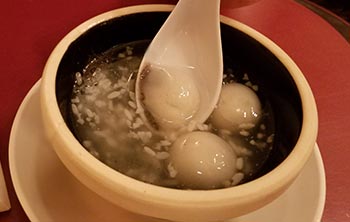 It's not all just fire and spice at Z & Y Restaurant, so end your holiday meal with the pleasing array of coconut flavors in our sweet sticky rice ball soup.
---
Book your next holiday or Christmas meal at Z & Y Restaurant today! Use our reservations page to book online, or for larger group dining, please call the restaurant at 1-415-981-8988. Reservations are highly recommended for groups of 4 or more.