Authentic Dan Dan Noodle Sauce Recipe
Dan Dan Noodle Sauce

by Z & Y Restaurant

By: Chef Li Jun Han


Published on: November 16, 2016


Description: This is a delicious recipe for creating authentic Dan Dan Noodle sauce. It is provided courtesy of Z & Y Restaurant's executive Chef Han, an internationally renowned chef in the world of authentic Asian cuisine.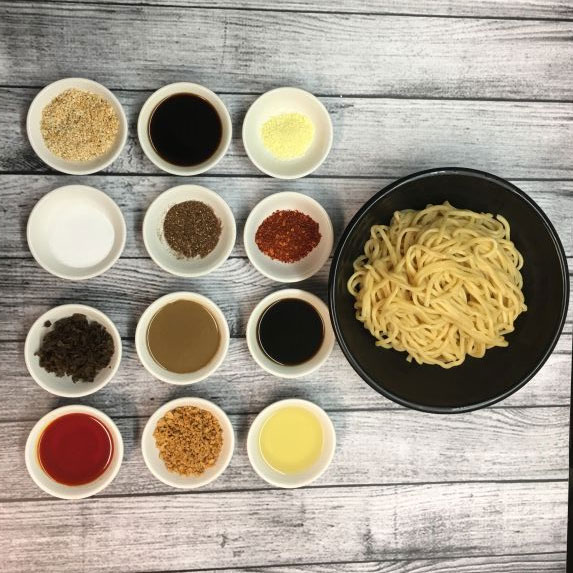 Prep Time: 15 minutes
Cook time: 10 minutes
Serving Size: 4
Ingredients:

- Ground Sichuan peppercorns (1 teaspoon)
- Sichuan peppercorns oil (1 1/4 teaspoon)
- Black vinegar (1/2 tablespoon)
- Red chili oil (1/2 tablespoon)
- Salt (1 teaspoon)
- Kikkoman soy sauce (2 teaspoon)
- Raw peanut (1/2 tablespoon)
- Raw sesame (1/2 tablespoon)
- Chinese sesame paste (1/2 tablespoon)
- Chopped zha cai (1 tablespoon - Chinese pickles in Chinese grocery store)
- Red chili (3 red chili peppers)
Instructions:

- Stir fry sesame (With low heat until the sesame turned into golden brown color. Do not overheat the sesame as it will taste bitter)
- Deep fry peanut, peel and chop the peanuts (With low heat. Do not overcook the peanut. Freshly cooked peanuts have better flavor)
- Thin the Chinese sesame paste with oil
- Stir fry Sichuan peppercorns and then chop them
- Mix chopped peanut, stir fried sesame, chopped chili flake, red chili oil, ground Sichuan peppercorns, chopped zha cai, sesame peanut, black vinegar and Kikkoman soy sauce together.
- Put the mixed Dan Dan sauce on the noodle, then serve.
Bonus Cooking Hacks for Chinese Noodles
When cooking your noodles, try the following tips to get a better result:

- Add a half ounce of salt per 20 ounces of boiling water to prevent the noodles from clumping together
- Using dried noodles? Put your noodles in the pot as soon as the water begins to bubble. Then place the lid on top, and remove to stir a few times until the water reaches a boil. At that point, put a bit of cold water in the pot, and lower the heat to medium for a few minutes before turning off entirely. Keep the lid on and let the noodles sit for five minutes before removing.
- Noodles still sticking together after cooking can be sprayed with rice wine and then more easily separated.
- A wooden spoon placed across a boiling pot will prevent the water from boiling over
If you enjoyed this recipe, please share it on social media using the buttons below!